FAST Connect
FAST Connect (Fire & Ambulance Services Teen Connect) is a uniformed group set up by the Fire Services Department (FSD) in 2021 for the participation of secondary school students. FAST Connect aims to recruit around 200 students in the 2021/2022 school year.
The objective of FAST Connect is to provide a learning platform for members to find out more about themselves, cultivate positive thinking and orient themselves career-wise through various training and activities. In the programme, members will take part in training of skills, discipline and leadership, through which they will acquire practical knowledge and skills, and at the same time, develop correct values, adherence to law and discipline, and team spirit. It is the FSD's hope to, with FAST Connect, nurture young people into a new generation with social commitment, a sense of national identity, passion for Hong Kong as well as international perspectives.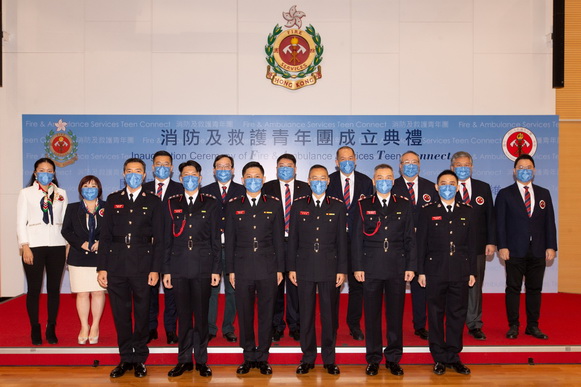 Photo shows (front row, from left) the FAST Connect Honorary Secretary, Mr FOK Siu-pong; the FAST Connect Vice President, Mr YUNG Kam-hung, Michael; the Deputy Director of Fire Services, Mr YEUNG Yan-kin, Andy; the Director of Fire Services, Mr LEUNG Wai-hung, Joseph; the FAST Connect President, Mr WONG Chun-yip; the FAST Connect Honorary Secretary, Mr WONG Lut-man. Also present are (back row, from left) the Honorary Assistant Commissioner Ms WONG Ying-ying; Ms MAK Ling-ling; Mr WONG Man-yeung, Ryan; Ir LEE Kam-hung, Arthur; the Honorary Commissioner Mr LEE Shing-put; the Honorary Deputy Commissioner Mr NG Sau-kei, Wilfred; Mr WONG Kam-choi; the Honorary Assistant Commissioner Mr SIN Nga-yan, Benedict and Mr WONG Wai-yue.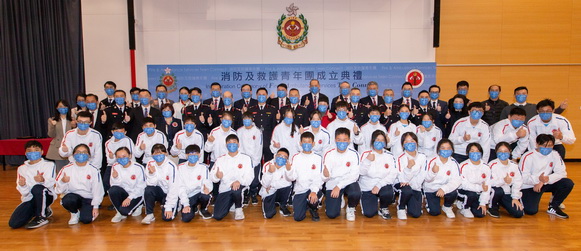 Photo shows the Director of Fire Services, the Deputy Director of Fire Services, Security Bureau officials, the Executive Committees of the FAST Connect, with representatives of participating schools.
Community Leaders
Activities
FAST Connect provides various training courses and activities to members on a regular basis, which mainly include:
Basic training on firefighting and rescue skills as well as fire safety education;
Basic training on first-aid, cardiopulmonary resuscitation and the use of automated external defibrillators;
Training on Chinese-style foot drill;
National education;
Visits to the Fire and Ambulance Services Academy, fire stations and ambulance depots, etc; and
Exchange opportunities with social dignitaries, leaders and elite athletes.
Activities Snapshots
Contact Us
Tel: 2170 9693
Fax: 2367 1354
E-mail: fastconnect@hkfsd.gov.hk