Fire Safety Education Bus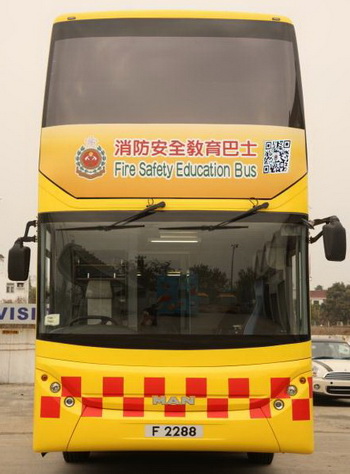 Description
Fire Safety Education Bus is designed for the promotion of fire safety knowledge and awareness to the general public.
Function

l The upper deck of the bus is simulated a domestic building configuration equipped with a laser beam and smoke evacuation chamber. Visitors can learn how to response according to different situation and decide to escape or not at a smoke-logged area.
The lower deck of the bus provides multi-media and interactive fire suppression simulation system. Visitors can learn, in an interactive manner, how to choose and use appropriate fire extinguishers to put out different types of fire. Two touch-screen computers are available on the lower deck of the bus. Visitors may obtain various fire protection information and to enhance their fire safety awareness by playing computer games. Visitors can also learn how to use the simulated hose reel system equipped on the bus.
To promote fire safety awareness and disseminate fire safety messages to the public during fire prevention campaigns, carnivals and fire station open days.