Mobile Publicity Unit (MPU)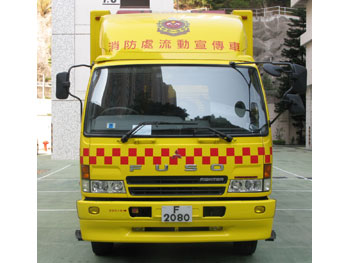 Description
Mobile Publicity Unit is designed for the promotion of fire safety knowledge and awareness of the general public on fire safety.
功能

To provide a mobile unit stowed with computerized equipment/materials for fire safety educational/publicity duties, e.g. fire safety talks/seminars and exhibition which will travel territory-wide to cater for the public especially those who live in remote areas.
To facilitate the conduction of fire safety talks/seminars for those organizations which are lack of venue by acting as a lecture room with teaching aids/materials for the purpose.
To provide logistic support to major fire prevention campaigns, carnivals and fire station open days being an integral and self-contained fire safety educational/publicity centre to disseminate fire safety messages to the general public.