Major Rescue Unit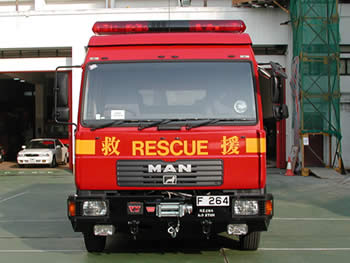 Description
The Major Rescue Unit is designed, on the one hand, to perform the role of a Light Rescue Unit. On the other hand, the fire appliance when paired with a Rescue Tender, the two fire appliances will form a Special Rescue Squad, with the capability to carry out rescue operation in major incident or disaster. In addition to the same rescue tools and equipment as the Light Rescue Unit, each MRU is carrying additional heavy duty rescue tools and equipment. In particular, each MRU is fitted with an electric winch in the front and a first respond fire fighting equipment at the rear.
Function

To perform the same function as Light Rescue Unit.
To pair up with Rescue Tender to form Special Rescue Squad.