Hong Kong Fire Services Department

Work-rest 15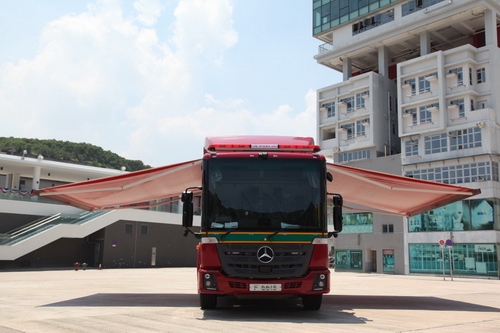 Work-rest 15
Description

The Work-rest 15 can carry maximum 4 personnel (including the driver). 4 built-in cooling chairs provide cooling service for frontline members. The cooling chairs can be adjusted to raise and lower by air compression and extension. The immersion pools of these 4 cooling chairs are connected to a 320 Liters water tank. The tank can be refilled by fire hose at scene as the water tank equipped with a 70mm MRT coupling.

2 nos. of 4 x 5m electronic telescopic shelters are installed at near and off side of the compartment in order to block sunlight and rain water as well as extend the rest area in major incident. After extension, 10-12 members could be accommodated at the same time.

Functions

The Work-rest 15 is a fire appliance equipped with cooling/warming equipment and supplies to facilitate the set up of on-site rest area at the incident scene.