Command Boat (CB 1 & CB 2)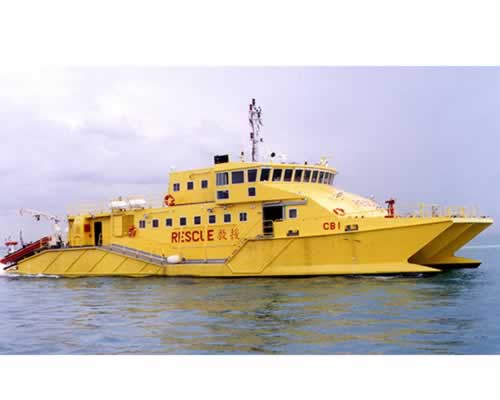 Command Boat (CB 1 & CB 2)

CB1 is berthed at East Sea Rescue Berth whereas CB2 is berthed at West Sea Rescue Berth to provide rescue service to the Hong Kong International Airport.
Principal Particulars
Crew
8 (Principal Fireman as Officer in Charge)
Built
1997 by Greenbay Marine (Pte) Ltd., Singapore
Dimensions
Length : 35.3 m
Breadth : 12 m
Draft : 1.8 m
Propulsion system
Twin Kamewa 71mm water jets
Engines
2 x 1,440 kw MTU diesel engines
Fire Pump
2 x PTO main engines
Pumping capacity
2 x 8,000 = 16,000 litres per minute
Speed
28 knots
Passenger capacity
603 persons (including life rafts)
Storage
Fuel : 14,400 litres
Fresh water : 2,000 litres.
Foam compound : 2,400 litres. (AFFF)
Navigation Equipment
Marine radar, Global positioning system (GPS), echo sounder and one infra-red night vision system.
Fire Fighting & Rescue Equipment
Deck Monitor
2 remote controlled water/foam monitors
Delivery outlets
4 x 70 mm diameter water outlets.