Hong Kong Fire Services Department

Fireboat 6 (Excellence)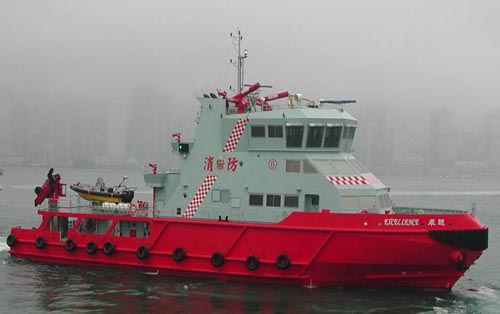 Fireboat 6 (Excellence)

To further enhance maritime operation efficiency, this Department has procured a new Fireboat 'Excellence' to replace the old fireboat 6 which had been serving the community for more than 24 years. The new fireboat is more powerful and sophisticated. The vessel was handed over to this Department on 18.3. 2005. After extensive trial operations to ensure reliable and effective performance of the vessel, she has been put into commission with her base at TYFBtStn since 18.4.2005.

Principal Particulars
Crew
12 (Senior/Station Officer as Officer in Charge)
Built
2004 by Guangdong Machinery Import & Export Co. Ltd.
Cost
HK$ 53 Million
Dimensions
Length : 42 m
Breadth : 10 m
Draft : 3 m
Displacement
680 tonnes
Engines
Main Engine – 2 x 1,772 kw Caterpillar diesel engines
Bow Thrusters – 1 x 518 kw diesel engine
Auxiliary Engine – 2 x 245 kw diesel generators
Generators
2 x 245 kw Caterpillar diesel generators
1 x 84 kw Caterpillar auxiliary generator
Fire Pump
One independent fire pump & two fire pumps PTO main engines.
Pumping capacity
3 x 40,000 = 120,000 litres per minute.
Speed
15 knots.
Passenger capacity
101 persons
Storage
Fuel : 41,690 litres
Fresh water : 22 tonnes
Foam compound : 30,000 litres
Navigation Equipment
2 marine radars, global positioning system (GPS), echo sounder and electronic navigation chart.

Fire Fighting & Rescue Equipment

Fire System
Controlled by touch screen computer system
Deck Monitor
2 remote controlled main water monitors
2 remote controlled water/foam monitors
4 manual controlled water-foam monitors
Delivery outlets
10 x 100 mm diameter and 2 x 70 mm diameter outlets
Daughter boat
One 6.7m speedboat with 2 x 75 HP outboard engines, the boat is equipped with 1 fire pump and 1 monitor
Diving cage
A diving cage with sufficient capacity for the conveyance of 3 divers to a depth of 60m at one time.