Cardiopulmonary Resuscitation (CPR) & Automated External Defibrillator (AED) Online Learning Resources
Introduction
To save a cardiac arrest patient, cardiopulmonary resuscitation (CPR), coupled with the use of an automated external defibrillator (AED) to deliver electrical defibrillation shocks, must be administered immediately. It is because every minute of delay in such actions will cause the patient's chance of survival to drop 7% to 10%. An AED is simple and easy to use. An ordinary person without any relevant training can operate the device simply by following the built-in audio prompts. That said, a person with AED training and proficient in its operation will be more confident when confronted with emergency situations which require delivering defibrillation shocks to the patient, and in such case, the whole rescue process will go more smoothly. It is for this reason that the Fire Services Department (FSD) encourages members of the public to receive AED training in addition to CPR training.
This learning module will give a brief introduction of CPR and AED for members of the public to grasp the basics of this first-aid protocol. In addition to online learning resources, the FSD also offers the "Press to shock – Save a life" CPR & AED Course for free, which provides comprehensive coverage of the administration of CPR and AED. Please click here for details and enrolment information.。
"Five Steps to Save A Life"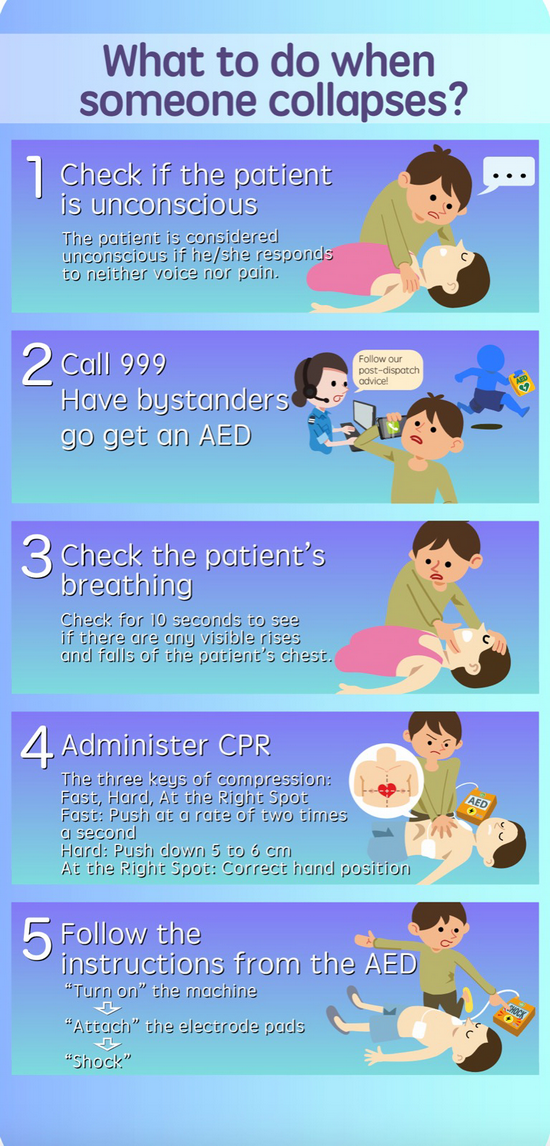 * Click here for the points to note when performing CPR during the COVID-19 pandemic.
Watch Video Clip
Take a Quiz
After learning the "Five Steps to Save A Life" introduced in this module and watching the video clip, you may wish to test your knowledge from the module by attempting the questions in the quiz below. You will be given a souvenir simply by showing your completed answer sheet if and when you attend the "Press to shock – Save a life" CPR & AED Course in the future!
| File Name | File Download |
| --- | --- |
| Cardiopulmonary Resuscitation (CPR) & Automated External Defibrillator (AED) Online Learning Quiz | |